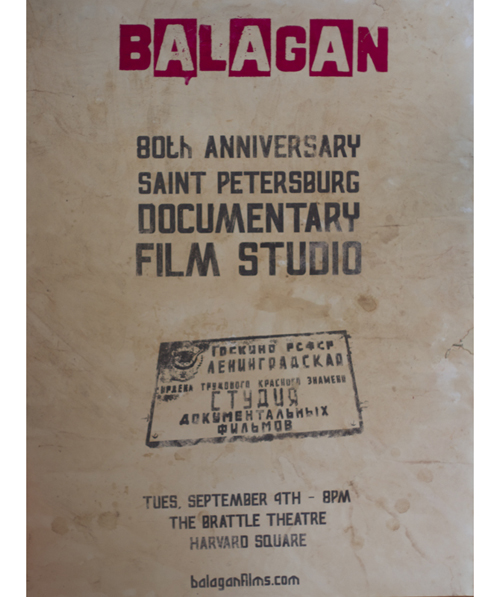 80th Anniversary of the Saint Petersburg Documentary Film Studio
September 4, 2012 (Tue) - 8:00pm
, Brattle Theatre
Although the official founding year of Russia's oldest documentary house is considered to be 1932, the studio's history goes as far back as 1914. Its building in the historic city center evokes the extent of its history, as the studio is located in the luxurious former residence of a 19th-century senator, a lover of horses who built a flamboyant equine drinking fountain and a riding arena on the premises. Among the many pieces of archival chronicles held by the studio – including home movies by the Romanov family, footage from the 900-day city siege during WWII, and Anna Akhmatova's epic funeral in 1966 – are treasured insights into Russia's and Saint Petersburg's past that are revisited time and time again by the studio's archivists, filmmakers and curators. Russian documentary production has diminished from the heyday of the '60s, but the studio continues to support a group of filmmakers who regularly show 35mm and digital films at international festivals. Among the most acclaimed members of the collective are three filmmakers we will feature this evening – Pavel Medvedev, a legendary figure who presented his works at the 2009 Flaherty Seminar; Sergei Loznitsa, who has recently received international attention for his Cannes entry "My Joy;" and Alina Rudnitskaya, an investigator of females' roles in Russian society, whose most recent film "I Will Forget This Day" made an impact at a host of international festivals.
Program
On the Third Planet from the Sun (Na tret'ei ot solntsa planete), Pavel Medvedev, 2006, 35mm, 32 mins
The Russian North. People who live here pick up "space garbage" in the bog, sell the scrap metal or use it in housekeeping and farming. In the Arkhangelsk region, 45 years since nuclear bomb experiments, life is going its ordinary way. Festivals and awards: Grand-prix and prize for the best documentary at 53rd IFF, Oberhausen, 2007; Prize for the best work of the director of photography at IFF "Massage to man", Saint-Petersburg, Russia; Special program at IFF Jihlava, Jugoslavia, September, 2008; Diploma "For the resistance to the ecological catastrophe" at the I Russian Open film festival "Sol Zemli", Samara, 2008; I Diploma at the film festival "Radonezh", Moscow, 2008; Second prize «For depicting the crossing of the everlasting human paths with merciless roads of contemporary civilization; for poetry and irony» at IFF «Crossroads of Europe», Lyublin, Poland, 2008; and others.
Bitch Academy (Kak stat' stervoi), Alina Rudnitskaya, 2007, 35mm, 31 mins
There was a time when the word "bitch" was perceived as negative. But today it has become a bestseller. A bitch has become a kind of ideal to a modern woman, a real hero of our days. Most of the women older than 15 seek to be a bitch. Who is a vixen, modern bitch? Vixen is a woman that follows her own desires, she relies only on herself, clearly understands what she wants to get from life and men, doesn't follow the stereotypes, knows men's "weak" points, is self-supporting and has inner freedom.The main shooting technique is a method of observation. This film can be called "the best documentary comedy" about women. Festivals and awards: IFF Oberhausen, Germany, IFF Madrid Documenta, Spain; IFF " Independent Shorts ", Vein, Austria; IFF " Stars of Shaken ", Alma-Ata, Kazakhstan; IFF Villa De Conde, Portugal; "Open cinema" Saint-Petersburg, Russia; "Okno v Europu", Vyborg, Russia; RFAF international festival of Anthropological Films, Salekhard, Russia; "Rossya" IFF, Yekaterinburg, Russia; 52 London BFI IFF - Alina Rudnitskaya film programme; Prix europa IFF, Berlin, Germany IFF "in Drama", Greece; Exground IFF, Germany - Alina Rudnitskaya film programme Saratovskie stradania IFF, Saratov, Russia; No-budget film festival "Suburbia", Roma, Italy; Kassel IFF, Germany; Neubrandenburg IFF, Germany; IDFA, Amsterdam; Winterthur IFF, Switzerland - Alina Rudnitskaya film programme; IFF Cork, Denmark; and others.
Factory (Fabrika), Sergei Loznitsa, 2004, 35mm, 30 mins
Masculine and feminine, hard and soft, continues and interrupted, whole and fragmented. All that is encompassed by just one day at the factory. Festivals and awards: Grand Prix International Film Festival in Lion, France, 2004; Best International Film "Media City" International Film Festival, Toronto, 2005; Jury Award International Film Festival, Toronto, 2005; Best Camera "Message to Man" International Film Festival, St.Petersburg, 2005