Expanded Celluloid, Extended Phonograph: Hangjun Lee + Chulki Hong, Youjin Moon, Retribution Body
January 28, 2016 (Thu) - 8:00pm
, Le Laboratoire
$12 general admission | $10 Non-Event members & students
Balagan and Non-Event co-present a full evening of expanded cinema performances by Hangjun Lee and Chulki Hong, films by Youjin Moon, and a musical performance by Retribution Body (Matthew Azevedo).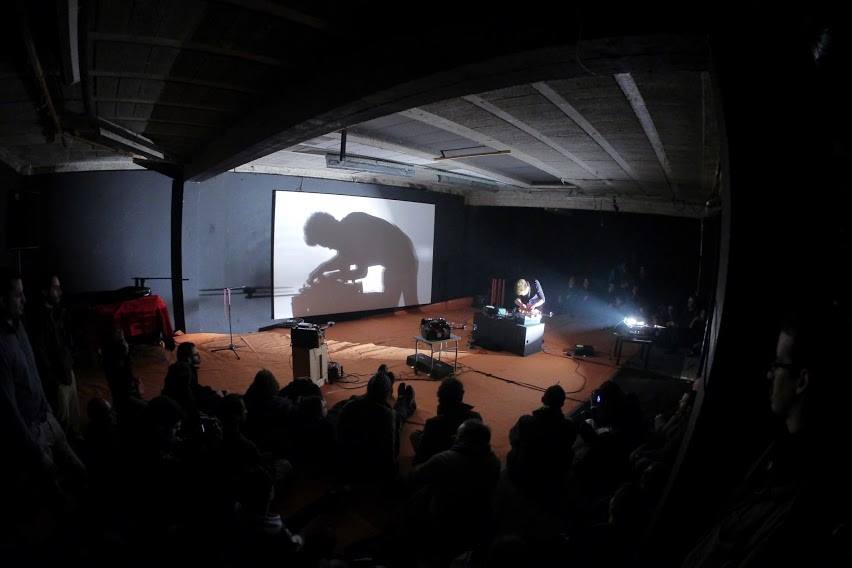 HANGJUN LEE and CHULKI HONG have collaborated together since 2006 – stimulating critical investigations into the performativity of practices in the darkroom, the screening room, the private recording/ practicing studio, and the public performance spaces utilised for the improvising musician.

Born in 1977, Hangjun Lee is a filmmaker and independent curator who also works as a program director at EXiS in Seoul. He also curated screening & live media program such as Cinematic Divergence(2013) & Mujanhyang (2014) for National Museum of Contemporary Arts (MMCA) in Seoul and Embeddedness: Artist Films and Videos from Korea 1960s to Now (2015) for Tate Modern in London. His works are based on multi-projection and optical sound, often involving improvisations with a variety of artists. Since 2006 he has been working on an audiovisual research project, "Expanded Celluloid, Extended Phonograph" in collaboration with Hong Chulki, a noise improviser. Their collaboration stimulated critical investigations into the performativity of practices in the darkroom, the screening room, the private recording/ practicing studio, and the public performance spaces utilised for the improvising musician.

Born in 1976, Hong Chulki is an improvising/noise musician from Seoul, South Korea. With Choi Joonyong, he founded the first Korean noise music group Astronoise in 1997 and experimental music records label Balloon and Needle in 2000. His main instrument is amplified/unamplified turntables in the recent years. He has been active in audio-visual performance with Korean film artist Lee Hangjun under the name of Expanded Celluloid/Extended Phonograph. He has collaborated with several improvising/noise musicians including Ryu Hankil, Jin Sangtae, Joe Foster, Kevin Parks, Otomo Yoshihide, Sachiko M, Takahiro Kawaguchi, Jason Kahn, Bryan Eubanks, Will Guthrie, Aaron Dilloway and Okkyung Lee.

YOUJIN MOON (b. Busan, Korea) is a Boston based artist working within a variety of mediums including video, short 16mm film, painting and light installation. She earned two MFAs from the Massachusetts College of Art and Design in Painting and Film/Video and holds a BFA in Oriental Painting from Hong-Ik University in Seoul.

Her work has been screened and exhibited internationally in galleries and film festivals including EXiS at the National Museum of Modern and Contemporary Art in Seoul, Jihlava IDFF in Czech Republic and DM Contemporary in New York. She has recently won the Korean EXiS Award at the Seoul International Experimental Film and Video Festival.

MATTHEW AZEVEDO (aka RETRIBUTION BODY) is a musician, audio engineer, teacher, and acoustician currently based in Boston whose performance practice is centered on creating unique, immersive sound environments. His primary solo project Retribution Body uses analog electronics, high amplification, and a custom speaker array capable of reproducing subsonic energy to explore the mental and emotional states which arise in Zen meditation. His most recent album as Retribution Body, Aokigahara, was released by Type Records in 2015 and was included on many year-end "Best of" lists.
Program
Pt. 1 - MUSICAL PERFORMANCE BY RETRIBUTION BODY (MATTHEW AZEVEDO)
Pt. 2 - FILMS AND VIDEOS BY YOUJIN MOON
Light Rhythm #1-3 (2013) 05:00 / 16mm
Light Rhythm is an experimental film that uses light as a means to explore the relationship between painting and the cinematic experience.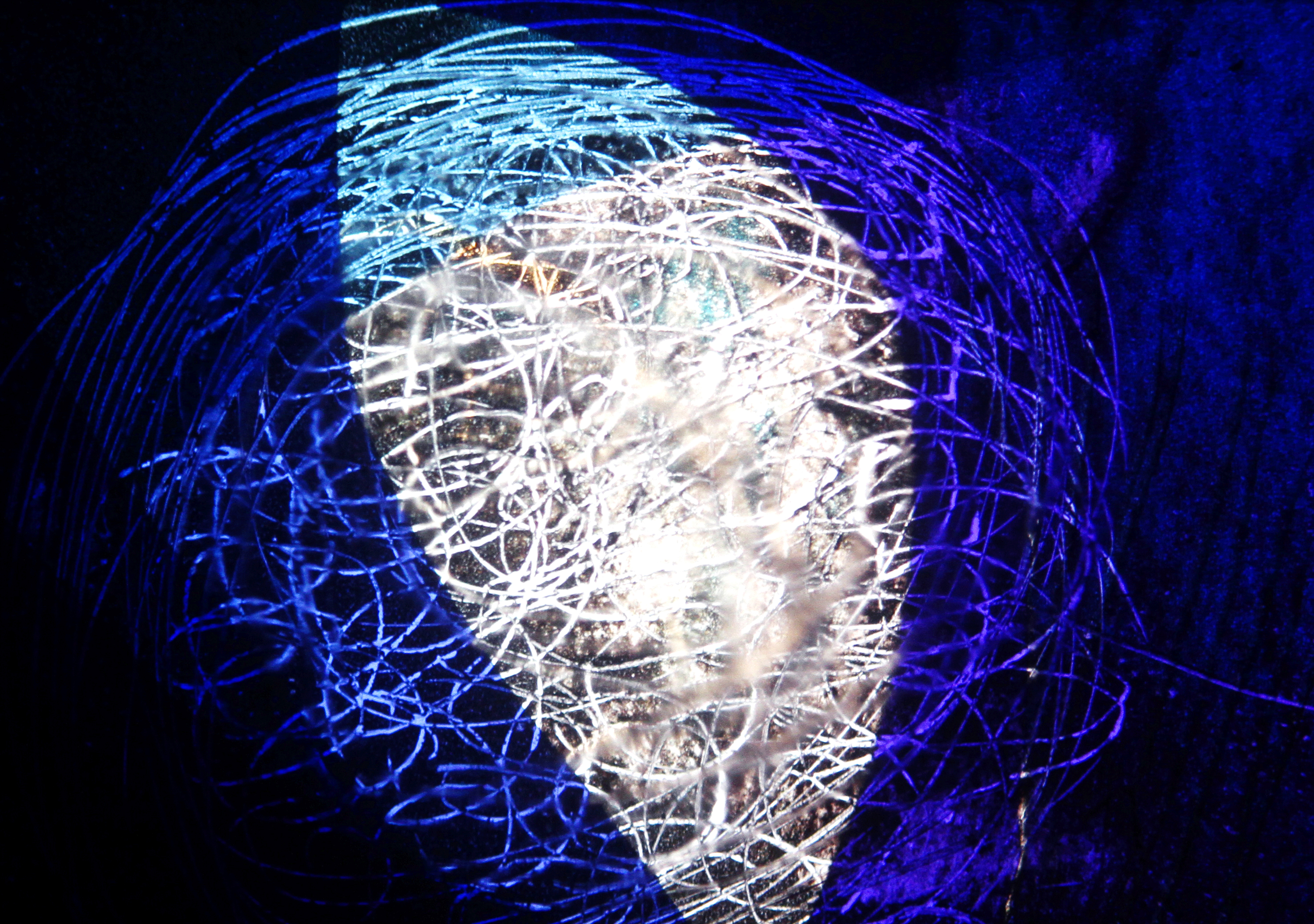 Photogram # 1 (2013) 03:00 / 16mm on digital video
The translation of three dimensions into two dimensions re-emerges in motion on a screen by creating unexpected rhythms and movements of abstract imagery. The flashing images evoke particles in space, microscopic structure of tissues, and nature.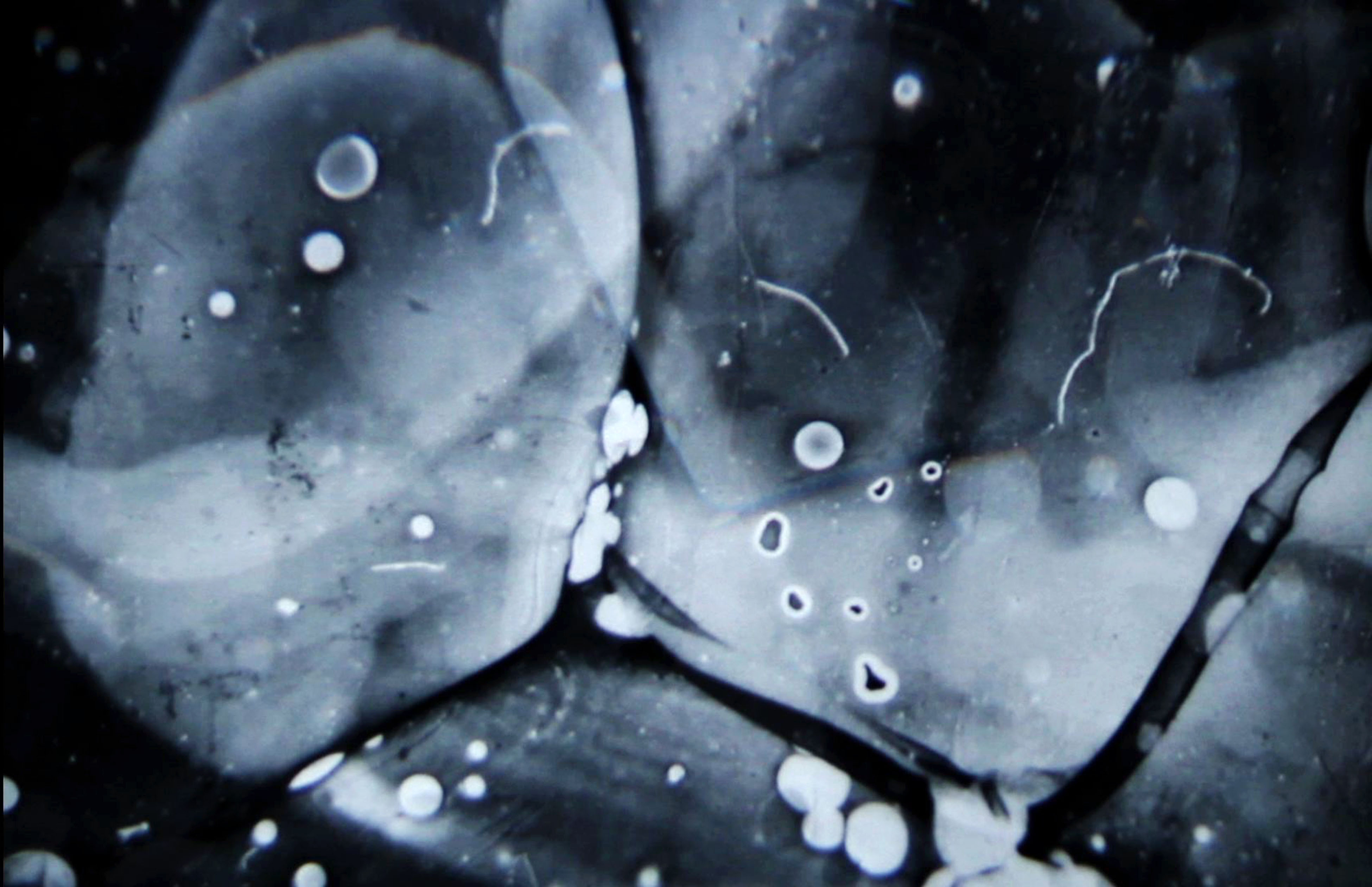 Photogram # 2 (2014) 03:30 / 16mm on digital video
Photogram # 2 is an abstract film that combines optical printing, photograms, and emulsion reticulations. The film shows my interest in materials, light and manipulation of surface of film.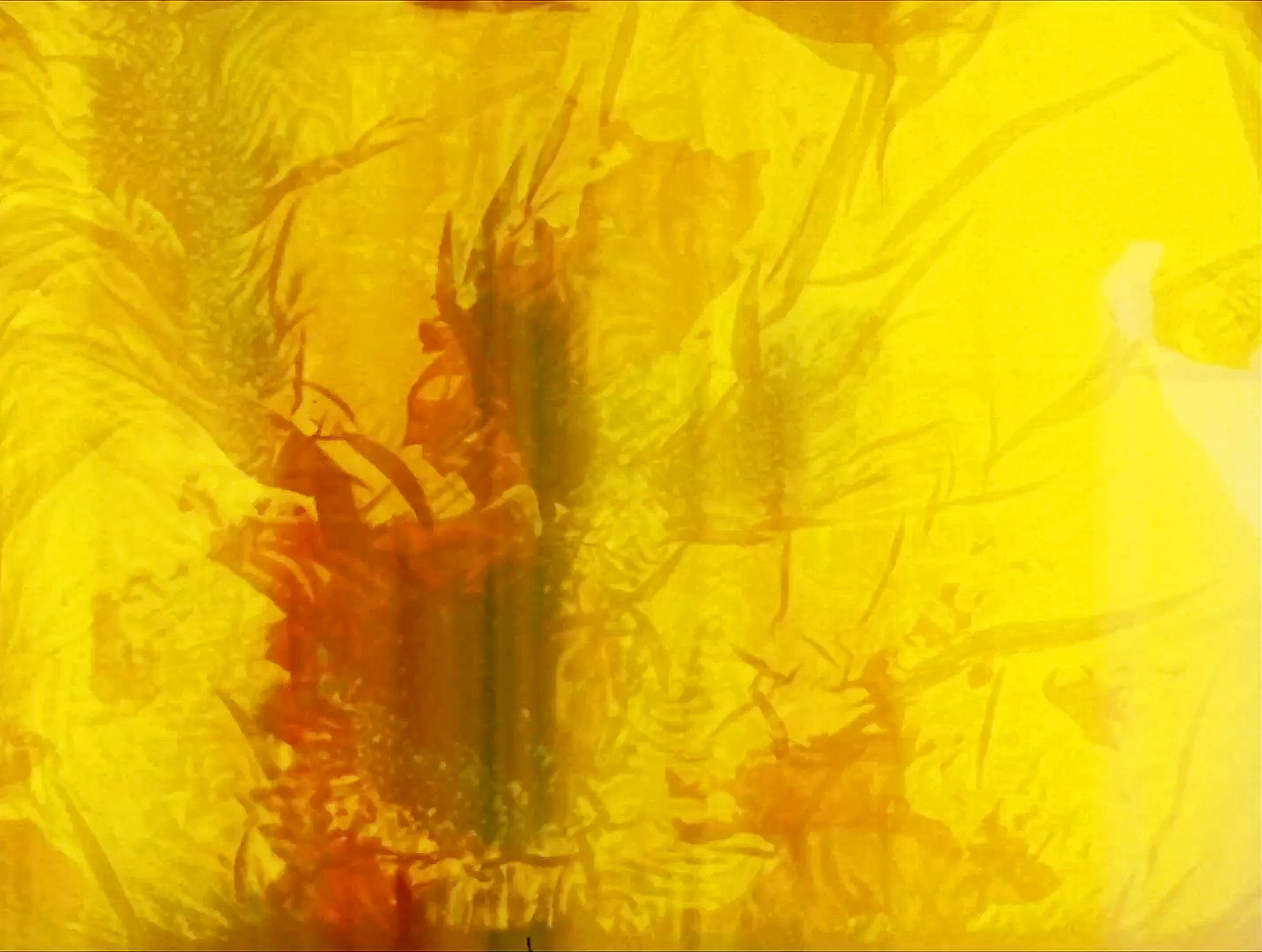 i o (2015) 10:55 / digital video
io is an experimental video that moves through unexpected transitions of tactile space, fusing the real and virtual. Light-filled red and yellow environments evolve from cosmic space to cellular architecture and natural forms. The unlikely juxtaposition of sound and image conjure up remnants of fictional civilizations and dystopic histories.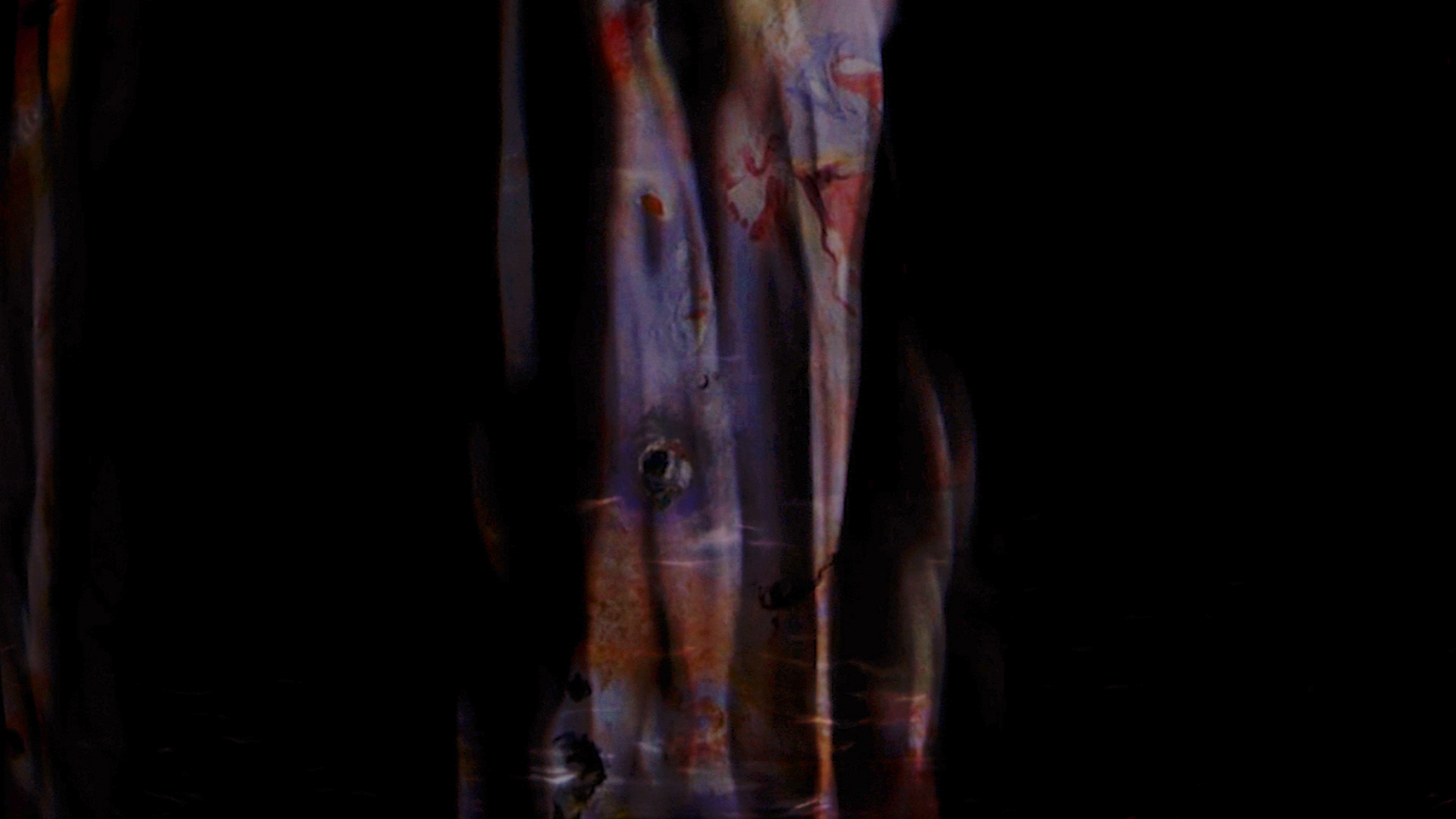 Pt. 3 - EXPANDED CINEMA PERFORMANCES BY HANGJUN LEE AND CHULKI HONG
Phantom Schoolgirl Army (2013)
Phantom Schoolgirl Army is a powerful audiovisual performance based on a collection of military photographic portraits, and elaborates on the story of North Korean spies disguised as high school girls during the Yeosu-Suncheon rebellion of 1948. The South Korean government used this legend as anti-communist propaganda.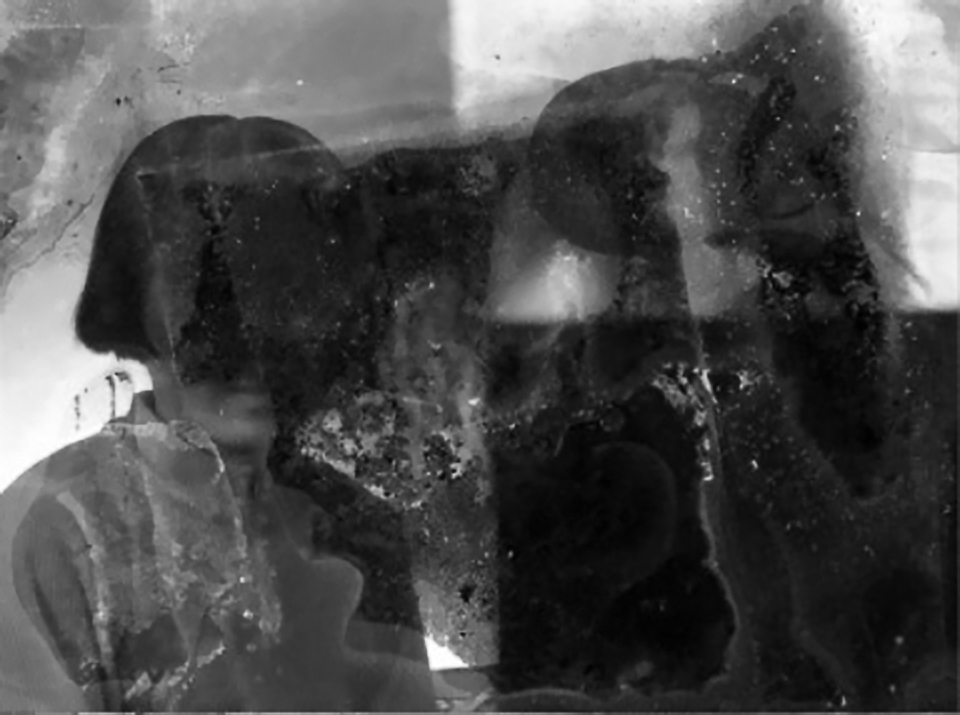 Film Walk (2013)
In Film Walk the perforations in the film stock are read by the projector's optical sound head as sounds. According to Lee: "Film perforations are the holes placed in the film stock during manufacture and are used for transporting and steadying the film. Film perforations identify the material as a film strip. I load the film reel, and the projector's optical sound head reads each perforation as a sound and I draw the film strip while I'm walking. People can see me walk, people can hear me walk, people can experience the film strip's movement. This project keeps expanding using handmade perforations, escaping from the film company's material and returning back to the basic questions of the relationship between film material and projector."