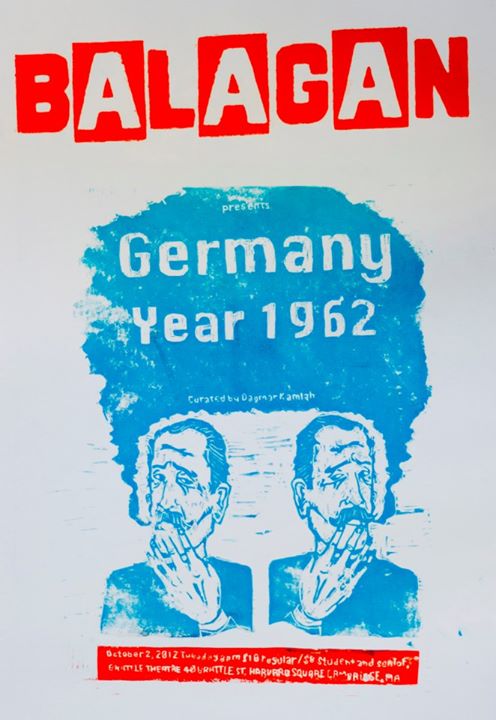 Germany Year 1962
October 2, 2012 (Tue) - 8:00pm
, Brattle Theatre
Guest curated by Dagmar Kamlah. February 28, 1962: 26 young directors declared the end of "Papa's Kino" and the birth of the New German Cinema. The signatories of the momentous Oberhausen Manifesto included Alexander Kluge, Edgar Reitz, Peter Schamoni, and many others, mostly forgotten names. At the intractable shift from post-war hardship to "Wirtschaftswunder," this group of creatives represented a skeptical generation eager to establish a realistic and aesthetically ambitious cinematic future. Form and consequences of this manifesto remained highly controversial, even among the signers themselves. Their works – 170 mostly short films made between 1958 and 1967 – disappeared soon after in oblivion. People had to face the curious fact that one of the most significant periods of German film history was at the same time the most unknown. For the 50th anniversary of the manifesto, four major German institutions took action and succeeded in unearthing and restoring a dozen of these films, making available brand new film prints and digital copies. Balagan Series presents five of these rarely seen films on 35mm, which document the new formal and political ambitions of the Oberhausener's.
Program
Presented on 35mm
Poor People (Arme Leute) by Vlado Kristl, 8 min, 1963
The Yugoslavian director actually does not belong to the Oberhausen group, he came to live in Germany in 1963, later on contributing some of the most radical films to New German Cinema. In this early short film he struggles with conformity.
Notes from the Altmühl Valley (Notizen aus dem Altmühltal) by H.R.Strobel/H.Tichawsky, 17 min, 1961
An essayistic review of a famous rural region in the heart of Bavaria, which has a great history, a small present and no future.
Kahl by Haro Senft, 13 min, 1961
Documentary on the construction and imminent commissioning of the first West German nuclear power plant and the first German short film to be nominated for an Academy Award! The director is a major instigator of the manifesto.
Granstein by C.Doermer u.a., 13 min, 1965
This beautiful documentary captures the present situation of a family with 12 kids high up in the Alps. These farms sustained themselves through centuries, completely independent. The filmmaking collective focusses on the dying of this tradition, eyed through a Marxist lens.
Trab Trab by Detten Schleiermacher, 11 min, 1959
Impressions from a harness racing track. It's not about the race, but the odds and the poetry. And then there will be motion and beautiful horses gliding through the pictures. Note: The Goethe Institute will be presenting a larger selection of the films on DVD at the Coolidge Corner Theatre on Sunday, September 30, at 11 am - curated by Ralph Eue, curator of the entire project "Provoking Reality."