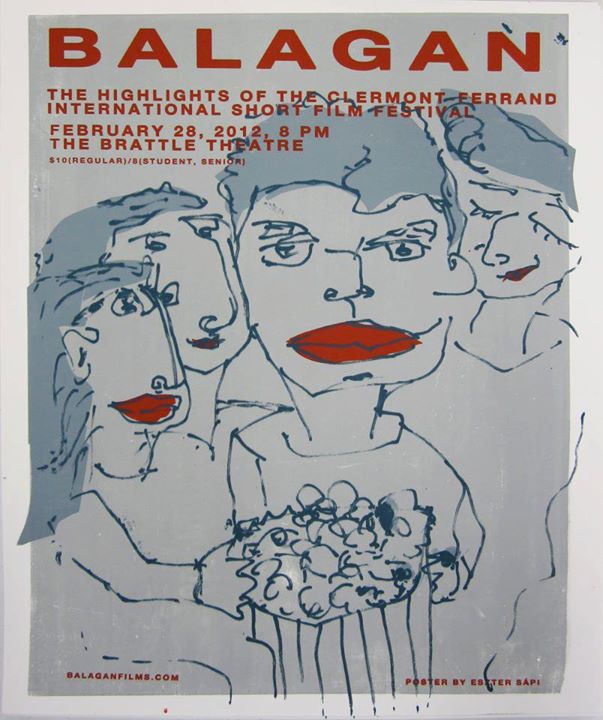 Highlights of the Clermont-Ferrand International Short Film Festival
February 28, 2012 (Tue) - 7:00pm
, Brattle Theatre
$10 regular / $8 student and senior Poster by
Eszter Sápi
.
The Clermont-Ferrand Short Film Festival has been running since 1981, originally screening mostly fiction shorts on 16mm and 35mm only. It has become the world's premier cinema event dedicated to short films. It is the second largest film festival in France after Cannes in terms of audience and professional attendance. With the arrival of digital technology, the festival opened to films on video. The introduction of a new competition dedicated to digital creation marked a first step in this direction. Yet the programming of films according to their original format was rapidly discarded. And soon, all competitions accepted professional video formats. In 2002, the five new programs on view became the Lab Competition, where the festival public can discover works combining various genres, techniques and artistic backgrounds.
Program
"



On the Way to the Sea" (2010)by Tao Gu

A combination of fictional elements, documentary fragments and visual abstraction, reflecting on the fragile human condition.
"Il Capo" (2010) Yuri Ancarani
In a marble quarry, the chief coordinates and guides quarrymen and heavy-duty machines using a language consisting solely of gestures and signs.
Heavy Heads (2010) by Helena Frank
In a grey kitchen, Monika lives a solitary life, to the sounds of a dripping water tap and a buzzing housefly. Monika is attempting to seduce the housefly when a sad stranger suddenly surprises her by entering through the wrong door.
"The Centrifuge Brain Project" (2011) by Till Nowak
The "Centrifuge Brain Project" is a scientific experiment that started in the 1970s. It involves an amusement park to enhance peoples' brain capacity. Dr Laslowicz explains the project. He believes that centrifuging people with 20.000 horsepower solves human problems.
Bobby Yeah
 (2011)by Robert Morgan
BOBBY YEAH is a petty thug who likes brawling and stealing stuff. One day, he steals some very dangerous individuals' favourite pet, and finds himself in deep trouble. He really should learn, but he just can't help it. 

Muro (2008)By Tião Soul in vacuum, desert in expansion.
Choros
 (2011) by Michael Langan, Terah Maher (in attendance!)

A chorus of women emerge from the movements of a single dancer in this dreamlike pas de trente-deux.