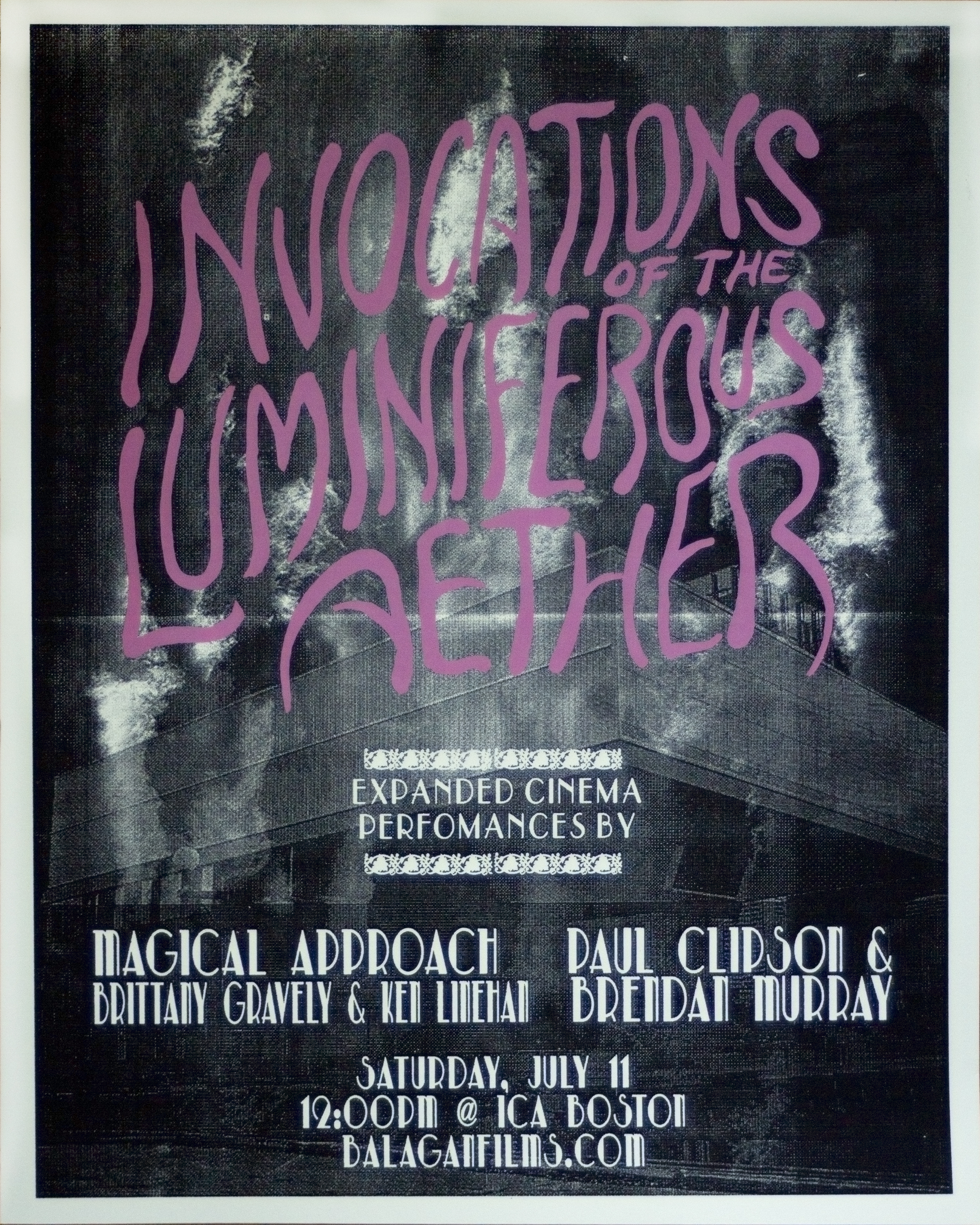 Invocations of the Luminiferous Æther: Expanded cinema @ the ICA // Paul Clipson + Brendan Murray // Magical Approach
July 11, 2015 (Sat) - 12:00pm
, ICA Boston
Balagan is pleased to present – along with Ricardo De Lima and the ICA, Boston – a program of two expanded cinema performances that challenge the perception of film as a static and unchanging medium or mere document of past artistic efforts. By introducing chance elements, both in the filming and the exhibition (which pairs live improvised sound to multi-layered 16mm projections), the performers draft the audience into the role of active participants; Unexpected mental connections are drawn between the disparate elements, mined from the depths of our collective unconscious and manifested as veritable waking dreams.
The program will begin with Magical Approach (comprised of Brittany Gravely and Ken Linehan, who have previously worked together as 'Architecture of the Sun' with Jenn Pipp) presenting a unique amalgamation of material shot both locally and abroad (in England and France) for their upcoming film cycle, The Telepathy Sessions. This will be a two projector performance with live sound.
Following this, San Francisco-based filmmaker Paul Clipson will screen roughly an hour of recently shot 16mm accompanied by the music of local electronic experimentalist Brendan Murray (in his first performance in several years). Clipson regularly presents his films as collaborative pieces with different musicians, with the assertion that the musicians don't see the work beforehand. Just as with his actual filming practice, largely based around the chance layering of multiple exposures in-camera, this calls upon the magic of luck to surprise and awe.
Program
TAROT PORTRAITS: ILLUMINATION, expanded cinema performance by Magical Approach

Magical Approach (the duo of Brittany Gravely and Ken Linehan) has been filming people near and far to create a set of cinematic tarot cards – layered vignettes infused with personal symbolism. By choosing costumes, objects, actions and locations that represent their own visions, the stars collaborate with the artists to bring forth what they want to manifest mythically and physically. Each roll of film is double-exposed as a toss of the alchemical I Ching to the beguiling discoveries of the serendipitous and the spectral. Sealed into the receptive emulsion, these layered iconographies are then awakened with the projection of light. In this way the participants' ideal selves are realized, and then affirmed by audiences who naturally recognize parts of their own dreams within the realization. This performance is a fresh shuffle of imagery and shapes and live sounds prepared just for this moment.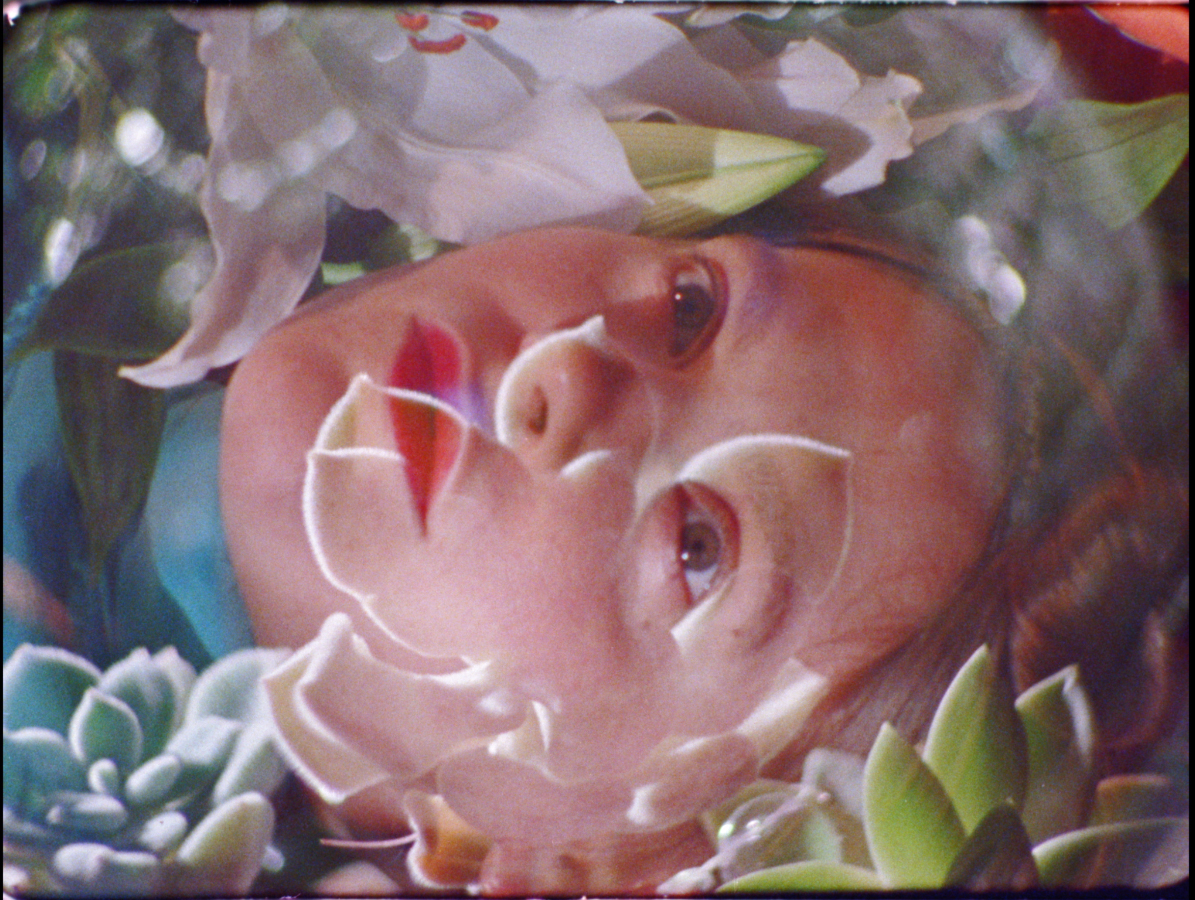 LIGHT BREAKS, sound & celluloid by Brendan Murray and Paul Clipson
Paul Clipson is a San Francisco-based filmmaker who often collaborates with sound artists and musicians on films, live performances, and installations. His Super 8 and 16mm films aim to bring to light subconscious visual preoccupations that reveal themselves while working in a stream of consciousness manner, combining densely layered, in-camera edited studies of figurative and abstract environments, in a process that encourages unplanned-for results, responding to and conversing with the temporal qualities of musical composition and live performance. His work has screened around the world in festivals and at sound & film events such as the International Film Festival Rotterdam, The New York Film Festival and the Cinémathèque Française. Later this summer, Clipson will present the feature-length sound/16mm collaboration HYPNOSIS DISPLAY with Liz Harris (Grouper) in Sidney, Brisbane and Melbourne.
Brendan Murray is a musician who composes solo electronic music, usually with the incorporation of acoustic instruments. His solo work is comprised of large blocks of continuous sound. He has worked with other artists and ensembles in the Boston area, including Animal Hospital Ensemble, Taps and the Callithumpian Consort at New England Conservatory. He also composes music for film and performance.