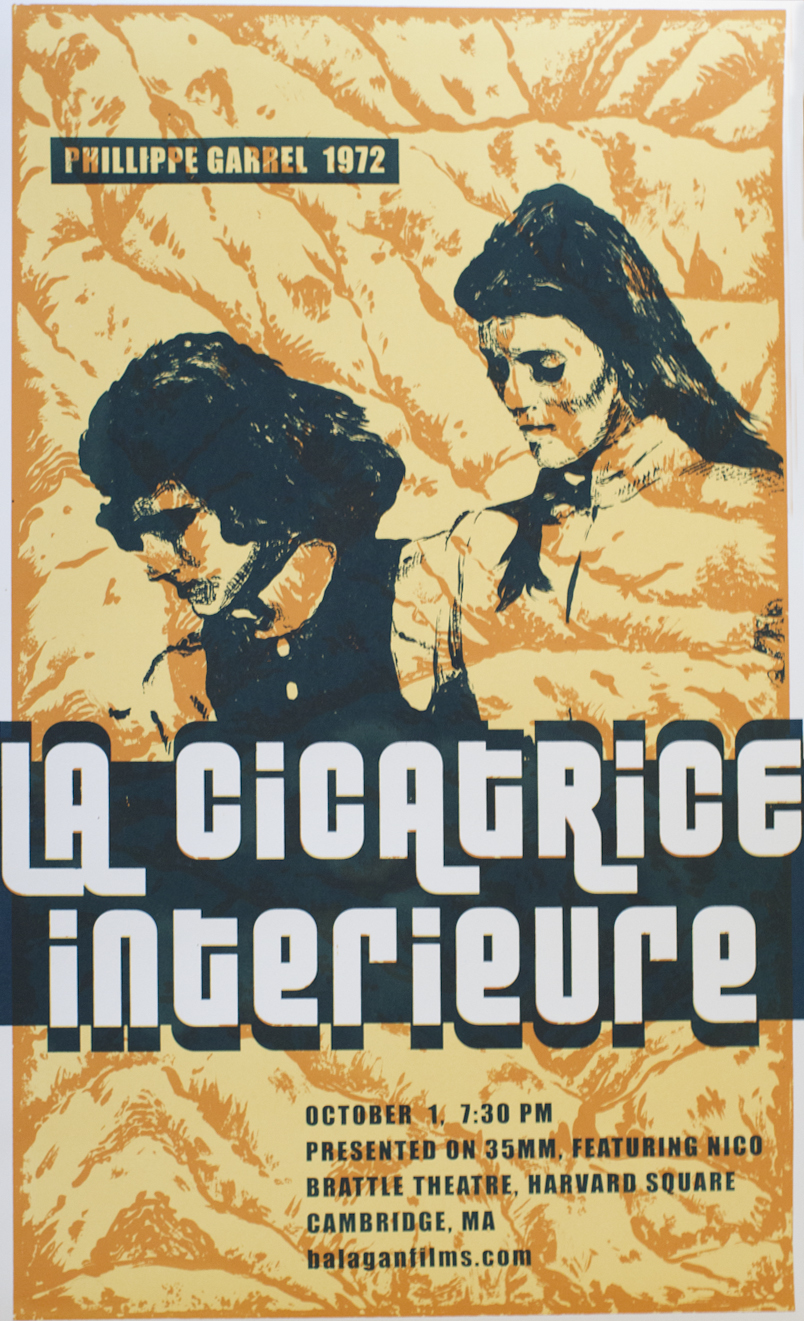 La Cicatrice Intérieure (1972) by Philippe Garrel
October 1, 2013 (Tue) - 7:30pm
, Brattle Theatre
Tickets are $10 for regular admission and $8 for students and seniors. Poster by
Alexander Squier
.
Ominous and sublime landscapes of Iceland and Sinai, gorgeous soundtrack by Nico, which was later released as the album Desertshore (with the notable exception of "König," which only appears in the film), and the 23-year-old director languishing with his Teutonic muse in amazing linen and leather outfits: such are the makings of this 1972 underground classic. The film was produced in connection with the Zanzibar collective, inspired by the wild spirit of 1968 and financed by a French heiress, Sylvina Boissonnas. Also appearing in the film are the beloved Pierre Clémenti, Nico's son Ari Boulogne-Päffgen, and the artist Daniel Pommereulle. Although the dialogue is occasionally in French and German, the film is not subtitled at the insistence of the director.
"It's fair to say that this hour of cinema is one of the most beautiful that has been cast on film for many years because, by removing from his film all marks of known or unknown civilization, Philippe Garrel delivers on his crazy pledge to present to the public a project of cinematic utopia. The filmmaker has finally achieved what he has wanted for a long time: to make a film that speaks (almost) without any words, to turn a desert into an ocean of emotions. You will see, La Cicatrice intérieure is a mad film. Staggering." (Gérard Courant, 1975)
Introduced by John Gianvito, a Boston-based filmmaker, curator, and critic. His films include the feature films The Flower of Pain, Address Unknown, The Mad Songs of Fernanda Hussein, Vapor Trail and Far From Afghanistan. He has taught film production and film history at Emerson College, the University of Massachusetts/Boston, Rhode Island School of Design, and Boston University, and was film curator for 5 years at the Harvard Film Archive. While there, John curated a program titled "Zanzibar Films and the Dandies of 1968," and he has written extensively on the films of Philippe Garrel.
This screening would not have been possible without support from the Oedipus Foundation, Goethe-Institut Boston, the Consulate General of France in Boston, and the Modern Languages Department at the University of Massachusetts Boston.
TRAILER