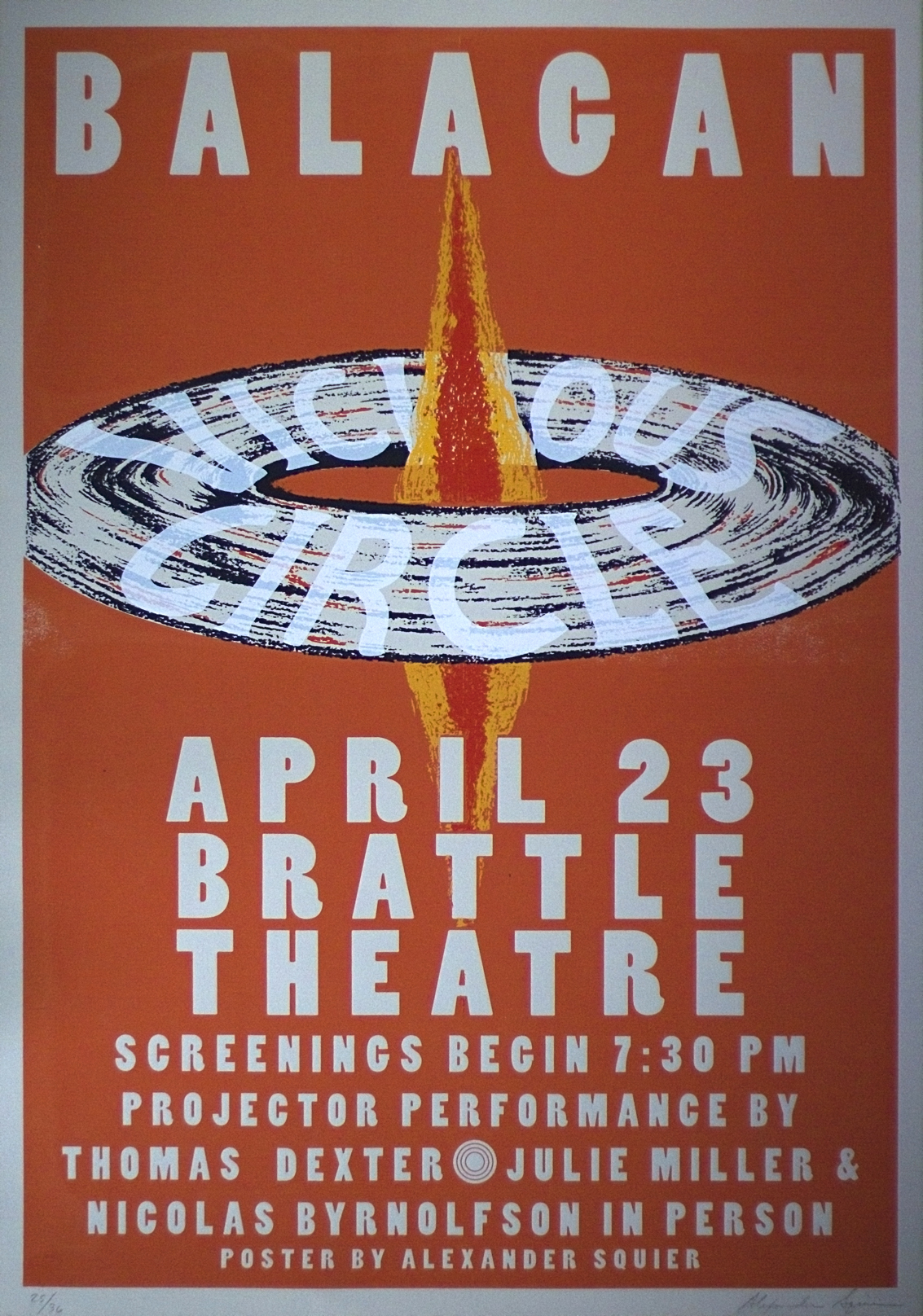 Vicious Circle
April 23, 2013 (Tue) - 7:30pm
, Brattle Theatre
Tickets are $10 for regular admission and $8 for students and seniors. Poster by
Alexander Squier
.
Mixing a number of rarely juxtaposed genres, Balagan takes a 360-degree look at cyclical structure and circular form. We are happy to present three locally-based artists and filmmakers: Nicolas Brynolfson, Santiago Gil and Julie Miller; as well as an audiovisual performance by NY-based artist Thomas Dexter and a 1970s' experimental film by Japanese avantgardist Toshio Matsumoto.
Program
Thomas Dexter, Action/Film, 16mm projection performance
Action/Film is an expanded cinema performance that uses direct animation, light-to-sound synthesis, a prepared projection surface, and the destruction of film itself. Starting with blank loops of 16mm film leader, the actions of the projectionist; drawing, scratching, erasing, generate both a formalist visual composition and a real-time graphical score for electronic sound. Never the same twice, the performance ends when the film loops break.
Julie Miller, o(81), 2012, 1:38, video
o(81) is an experimental short that engages visionary states through subjective perception.
Santiago Gil, Chiralia, 2013, 26 mins, video
Six people, three generations. A lake in the forest. A boy disappears. This tragic event, transported from person to person, spawns a collective screen onto which individual fears and wishes are projected. The dramatic consequences recede to the background and are superimposed with the subjective experience of the figures – Until the veracity of the events dissolves. What remains is a feeling of uncertainty that grows out of the unreliable interplay between reality, perception and memory.
Toshio Matsumoto, Atman, 1975, 11:48, 16mm presented on video, courtesy of the Postwar Japan Moving Image Archive
"ĀTMAN is a visual tour-de-force based on the idea of the subject at the centre of the circle created by camera positions (480 such positions). Shooting frame-by-frame the filmmaker set up an increasingly rapid circular motion. ĀTMAN is an early Buddhist deity often connected with destruction; the Japanese aspect is stressed by the devil mask of Hangan, from the Noh, and by using both Noh music and the general principle of acceleration often associated with Noh drama." (We Find Wildness)
Nicolas Brynolfson, LA River Ride, 2011, 18 mins, video
"Every time I see an adult on a bicycle, I no longer despair for the future of the human race." - H.G. Wells A trip down the Los Angeles river bike path becomes a psychedelic vortex of land, sky and water. - N.B.